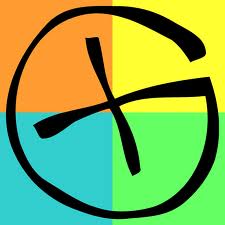 Caching Name:  Scrapple-ers
Real Name:            John and Dawn Tomeski
1. How did you become involved in geocaching?
In April 2006, John's brother, #1Papabear, came to visit from NC and said, "I have this cool new hobby for you to try, I think you'll like it."
Our first adventure was actually in Redden Forest, when they allowed caches, we got muddy and walked all over the woods and had the best time EVER, and we were HOOKED.
2.  How did you choose your caching name?
We live in Bridgeville. It is home to an apple orchard and a scrapple plant, so we did a little play on the name.
3.  What type of cache do you prefer seeking – traditional, multi, and puzzle, virtual?
Traditional are the most favored, but we LOVE virtuals because you learn and see so much more with them. NOT fans of puzzles.
4.  Which caches were the most challenging, either physically/mentally?
We like the physical challenges. We did one in NC that we had to walk on a guide wire (tight rope) over the top of a pond to get the cords and cross back to climb a tower about 150 ft high to get the cache. THAT WAS AWESOME!! Some of us had a little more difficulty crossing on the wire, when things start to jiggle and wiggle, ya kinda lose your balance.
5. What are your current geocaching goals?
We would like to travel a little more and find some unique caches. And maybe place a few more caches.
 6. Where have you always wanted to go caching but haven't?
Well, we've been mainly in the Mid-Atlantic states, I think we'd like to just head west and see wherer the GPSr takes us.
 7. What is your most memorable caching experience?
We have experienced so many different caches, there are some really challenging ones out there. We've been on a tightrope, in wells, under streets, climbed trees in the middle of a highway, kayaking, crossed a river on foot, and did the BLING trail in a day (can we say exhausting?) It really is hard to pinpoint one cache specifically.
8. What do you like about geocaching?
We love the adventure and the really great people we've become friends with. It is a great sport/hobby that anyone can do. We love travelling and getting off the highway.
 9. Do you have some favorite caches in the area? 
The kayak caches are really the most fun to us.
10. Do you have any other hobbies or interests?
We are crafters, we make a lot of different wood crafts and small furniture.
John and the older kids (KATnissT and BMXer17) are fire fighters.
Brad (B.A.Tman) is going into 1st grade and plays baseball and ice hockey.