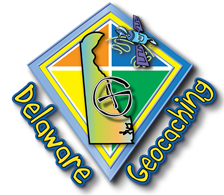 Caching Name:  lpyankeefan
Real Name:  Larry Potter
1. How did you become involved in Geocaching?
The Herald-Mail (a local newspaper in Hagerstown, MD) ran an article about Geocaching in August of 2003. Like quite a few other folks I decided to take a look at the website and join. Unfortunately I had two problems. 1.) No GPSr and 2.) A two year old toddler (and a nine year old son) who took up much of my free time. Fast forward to March 19, 2005 and a very warm day. At the time we were always looking for cheaper alternatives for fun. I remembered the account and knew a local who geocached. I took a look at the website, read the pages on a few caches that could potentially be found without a GPSr, grabbed the kids and headed out the door. We found seven that day. Two of those seven are still active after all these years. :) It's been all downhill since! ;)
2.  How did you choose your caching name?
lpyankeefan – pretty self explanatory. My initials are (l)arry (p)otter and I'm a New York Yankees fan. Don't hate! There are plenty of us around the globe! :D
3.  What type of cache do you prefer seeking – traditional, multi, and puzzle, virtual?
Honestly I don't have any particular preference and will hunt for anything and everything. Due to their relative scarcity and the fact that they continue to be archived as time goes on I'll go out of my way for Webcams, Virtuals and Earthcaches. Puzzles are my Achilles heel as I'm more apt to want to hike and hunt rather than sit at home in front of the computer solving puzzles that some of the greatest mind in the Mid-Atlantic have created. This means you rehobch! ;) Most of the time if I've claimed a puzzle it's due to one of my friends having solved it and me joining them for the hunt. I'll say so in my log which usually includes something along the lines of "Yep! I have NO idea how to solve this one but I was with _____ and then do and did. Thanks for the smiley!"
As to my other 'favorite' cache type…events. I absolutely love them. Events, Megas, CITO's, Mazes…Yep! I've hosted quite a few and attended many, many, MANY more. I've enjoyed the friendships that I've made as a result. Literally folks from across the country and around the globe.
4.  Which caches were the most challenging, either physically/mentally?
The most challenging cache I've completed was GC83C6 – Anasazi Ruins by zinnware located in the Grand Canyon. It's a virtual cache owned by a local Pennsylvania cacher that's so remote that it's only been 'found' by two dozen cachers in fifteen years. Considering our group accounted for almost a third of those finds that leaves an average of 1-2 finds per year otherwise. I won't regale my story of woe yet again but if you'd like to read a bit more check out the cache page for my log and if you're so inclined check out the closest caches as they tell the story of our rim to rim trek of the Grand Canyon between 10/01/2011-10/06/2011. The absolute toughest cache I've ever done and I'd do it again in a heartbeat.
An honorary mention goes to GCY72P – Psycho Urban Cache #13 – Impossible! Give Up Now! Yes, it's been found by fifty people but they've all actually climbed the seventy foot tall stone pillar in the middle of the Potomac River near Shepherdstown, WV. The merry little band that I was a part of figured out a way to retrieve the container, sign the logbook and replace it on top of it's lofty perch all without leaving ground level. It definitely wasn't easy but smurf76, vyper4, BJ&Snurt101, Phideo, donbadabon, Maryland Steelers Fan, GLM, GoGayleGo, The_Incredibles, maxboost1998, and eXtremeJeep all shared a hard earned smiley and claimed FTF on this devilish cache.
5. What are your current geocaching goals?
Ha! My first current cache goal doesn't actually involve hunting for more caches. It's to catch up on my logging. I'm horribly behind. HORRIBLY. Thank goodness for the log that my GPSr keeps and the friends that I normally cache with keep VERY good notes. As long as I've got the GC Code, date and time I'm usually pretty good with the actual logs. I usually try to write individual logs for each cache and tell an ongoing narrative.
Actual caching goals include:
1.) Completing GC38GBN – ABC 123 – An Alphanumeric Challenge
by wirtz which is the closest unfound challenge cache to my house. Durm and strang! I'm tired of seeing the darned thing! 1.5 miles! Auuugh! I just need to take a day to drive to Richmond, VA to grab the last couple that I need.
2.) Completing the Jasmer Challenge. I currently need May, June and November of 2000 and January of 2001. Hoping to complete it in the next six months or so…
6. Where have you always wanted to go caching but haven't?
Tough call. My watch list is ridiculous. I've got caches from around the world watch listed and live vicariously through others logs. While I will hunt and log almost any cache I still truly enjoy the places that take my breath away. Give me a hike and a vista to observe the world and I'm happiest.
7. What is your most memorable caching experience?
The five day rim to rim hike of the Grand Canyon in October of 2011. Over 105* at the bottom of the canyon the first and second day with a cold front ushering in torrential rainfall, frigid temps. and even snow when we 'summited' the south rim on the fifth day. As I said above, I'd LOVE to do it again.
8. What do you like about Geocaching?
The friends that I've made along the way. A few have moved elsewhere but a special few have been years long. You know who you all are. :)
9. Do you have some favorite caches in the area?
Soooo many to choose from and I'm afraid that I'll forget to mention something that should be so please do check the favorites list under mygeocaching.com profile. This past weekend included a visit with my daughter, her bestie and other geocaching friends to Breezewood, PA to attend TheRichFather's 10th Annual Abandoned Turnpike Bike Ride. Two events, thirty plus caches and two very dark tunnels through ridges in south-central PA. A fun time was had by all!
10. Do you have any other hobbies or interests?
Artwork and reading. I used to have much more time for creating art. Now that I've got a family and geocache…eh, not so much. I also read voraciously. E-books, audio books and print. It doesn't matter to me. I'll take a good story well written in any format.