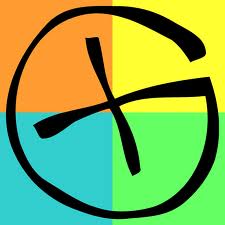 Caching Name:  SOAR-D12D14
Real Name:  Barb Bobik
Caching Name:  Lucky-Duck
Real Name: Karen Burgess
1.     How did you become involved in geocaching?      We are sisters and both got involved in August 2012 while in center city Philadelphia on a girl's weekend getaway.   Mary Hutchison (Shout out to Ragtopday) wanted to do some city caching as part of our weekend activities and we had no idea what she was talking about!  Our group spent the afternoon in the city caching and we both made a find that day. After that, we were hooked.
2.     How did you choose your caching name?       We each quickly came up with a name that same day in August so that we could search for caches and sign the logs. I (Karen) chose Lucky-Duck which is a variation of a street name from my vacation home at the beach. I (Barb) got my name from two eaglets that I had been watching that summer on a live webcam.
3.     What type of cache do you prefer seeking – traditional, multi, and puzzle, virtual?       We don't necessarily have a favorite type cache that we like better than others, however we both really enjoy finding a "creative" cache. We are also really motivated to complete any caching challenges such as the yearly FSC and the Chocolate Town Challenge.   The One Day iconic Challenge was unique because it required us to find all eight different types of caches in one single day.  We completed it a few years ago and really enjoyed finding all of the different kinds of caches.
4.     Which caches were the most challenging, either physically/mentally?      Vermont 1, the oldest active cache in Vermont was challenging both physically AND mentally.  This was found during a three day caching trip north with a goal of finding the oldest cache in seven different New England states.  We had to climb STRAIGHT UP a mountain for an hour which was quite a workout and put us there near dusk.  Once there, the directions were difficult to follow as it had us take different bearings and walk 100+ steps multiple times with no landmarks between turns.  We quickly came to realize that it is hard to measure the distance of a step.  Based on prior logs. It seemed like no one could agree on the length of each stride.  The best logon this cache reads "Up, Up, Up, Up, Up, Up, Up-then bushwhack and wander in the woods."  We finally had to give up searching and retreated back down the mountain in the dark (Not for the feint of heart).  After finding NO restaurants still open and the only mom and pop motel room available, we went to sleep cursing the cache.  However, sore but refusing to log a DNF, we made a second attempt in the morning.  This proved to be just as difficult but with more daylight we eventually made the find.  When we were almost back down, we came upon a caching couple from Ohio (Outdoors we go) who breathlessly asked us if they were getting close to the top.  We smiled, gave them our phone number, some tips, and just encouraged them to keep going. Several hours later we received a" phone a friend call" from them needing more assistance which helped them earn their smiley.
5.     What are your current geocaching goals?    Between working full time and sharing caregiving responsibility for a family member, our current goal is just to find more common time to cache together. This will hopefully give us the opportunity to participate in more challenges and cache more often.
6.     Where have you always wanted to go caching but haven't?       Neither of us have a particular place on the radar at this time, but we would like to continue our quest to find a cache in every state. We are getting there slowly, but surely.
7.     What is your most memorable caching experience?     Actually there are several that are quite memorable.
When we were fairly new to caching, we did a weekend trip to NYC and completed the Bridges and Arches of Central Park cache.  It was quite an undertaking to complete in a day for us newbies. We made the find in the dark and the cache owner delivered our numbered coins to our hotel the next morning.  It was so fun to explore ALL of Central Park and we encourage anyone who hasn't gotten this cache yet to check it out.  Word of advice, take a reference photo of everything you are asked to find.
We also really enjoyed the Rock Band trail caches in Virginia Beach. Believe it or not, the three days that we spent riding our bikes in both rain and the hot July sun were a blast!  By the way, Rock Band #2 America is now archived, perhaps due to one of us accidently dropping it off of the inlet bridge into the water.  Oops….
Honorable mention would be the caches we found on the island of St. Maarten.
8.     What do you like about geocaching?       We both like the challenge of finding the cache. I (Barb) like the stress relief geocaching provides and I (Karen) enjoy being outdoors while exploring new places.  We have met some wonderful people through caching and have made many great sister memories.
9.     Do you have some favorite caches in the area?      There are a lot of Delaware caches that we have enjoyed while completing the FSC Challenges each year.  It would be hard to select just one or two as our favorites.  Since we tend to lean toward specific caching challenges, there are many Delaware caches that we have not yet attempted to find. Of course, along with 594 other cachers, we would have to call "Your Key to Cache" one of our favorites due   to it's uniqueness.
10.   Do you have any other hobbies or interests?      When time permits, I (Karen) enjoy relaxing at the beach, boating, or reading a book.  I (Barb) also enjoy having my toes in the sand, as well as hiking, biking, and bird watching.  Summer concerts are something else that we really enjoy doing together.  The best is when we can combine the two "C's"….caching at a concert.  We've done that a few times.